passion and professionalism
Al Foghèr has been the benchmark for the conception and preparation of quality pizza in the Arezzo area since 1986. Classic pizza, contemporary pizza and dessert pizza: each originating from the perfect blend of innovation, quality ingredients and research into new flavours, all placed on top of an expertly worked and light base, in line with increasing demand for a healthy, balanced diet. Since its establishment, Al Foghèr has focused on the well-being of its clientele, putting the choice of the best flours available and the selection of high quality local and seasonal ingredients at the top of its priorities. 
The Pancini family's passion and professionalism has allowed them to enhance individual flavours through a perfect blend of base and topping, elevating pizza to the level of gourmet cuisine, capable of evoking emotions and transforming every meal into an unforgettable experience. This process requires care and dedication at every stage, making our journey towards "Pizza Only" in Arezzo a reflection of our identity and a natural and necessary step.
People don't come to a pizzeria just to eat, but to find friendship, well-being and to experience emotions. When confronted with a pizza base we feel like painters in front of a canvas: ready to create a unique and irreplicable work of art
new flavours AND perfection in the dough
Al Foghèr was born from the passion of Renato Pancini who, at just twenty-four years of age, founded his restaurant with the ambition of giving his clientele new flavours and a sense of well-being. This desire to discover new flavours and to find the perfect dough drove Renato to invest in a process of constant training, culminating in his experience at the Italian School of Pizza Chefs in Caorle (in the Veneto region) where he learnt all the secrets for creating and preparing quality pizza. 
His innovative and creative spirit also emerged throughout his many entries to the World Pizza Championships, where he presented a new dish each time he participated, earning the praise and recognition of the industry's leading experts. This commitment is not limited to just Al Foghèr but has also involved other colleagues, with a dialogue and collaboration which reached its peak with the establishment of the Confcommercio Association of Pizzerias of Arezzo, of which Renato is founder and president.
This passion and professionalism has also extended to his family, passed on from a father to his children who, since they were born, have had flour on their hands, learning the tricks of the trade. Riccardo completed his studies at the University of Pizza in Vighizzolo d'Este (in Padua) and took on the responsibility for the restaurant's dough, while Federica has focused on customer relations and restaurant management: Al Foghèr's current identity based on "Pizza Only" is also the fruit of this coming together and intergenerational collaboration.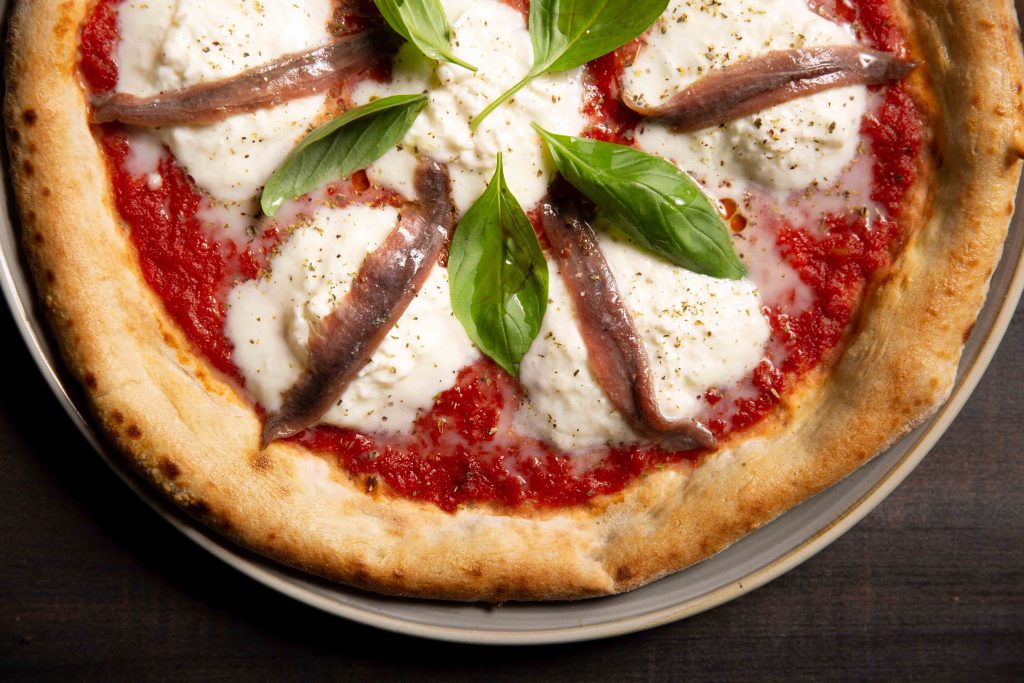 At just twenty-four years of age, Renato Pancini opens his new pizzeria concept, Al Foghèr, at Ponte alla Chiassa.
It quickly becomes the benchmark for quality pizza in Arezzo: Renato enrols in the Italian School of Pizza Chefs in Caorle (in the Veneto region) to learn the secrets of flour, dough and toppings.
The second generation of the Pancini family, Renato's children Riccardo and Federica, join the management of Al Foghèr. In the same year, the restaurant expands with 60 seats on the wooden veranda for outdoor seating during the summer, bringing our capacity up to 150 covers and leading to an increase in staff to 20 current employees.
We participate in Europain 2014, the world bread-making expo in Paris, where we prepare the pizza "Del Presidente" for President Hollande, with fior di latte mozzarella, burrata cheese, smoked salmon, orange, pine nuts, chopped pistachios and rocket.
We begin the transformation towards "Pizza Only", focussing our commitment exclusively on pizza in order to increasingly elevate it to the level of gourmet cuisine. In the meantime, Riccardo completes his studies at the University of Pizza in Vighizzolo d'Este, learning all the processes for creating and preparing the best contemporary pizza.
We launch a brand renewal and restaurant renovation project, with a cutting-edge design in line with the contemporary nature of our pizza. In November we become a "Petra Selected partner", bestowed upon Italian pizzerias that make the best dough and succeed in conveying a feeling of well-being to their clientele.
We open the second restaurant in the center of Arezzo with the new adventure of Al Foghèr Classic in the upper part of Corso Italia.
Pizzeria Al Foghèr | Ponte alla Chiassa, 78 Arezzo
Pizzeria Al Foghèr Classic | Corso Italia, 40 Arezzo
P.Iva P3 srl: 02271640514 | Tel. +39 0575 362577 | info@pizzeriaalfogher.com